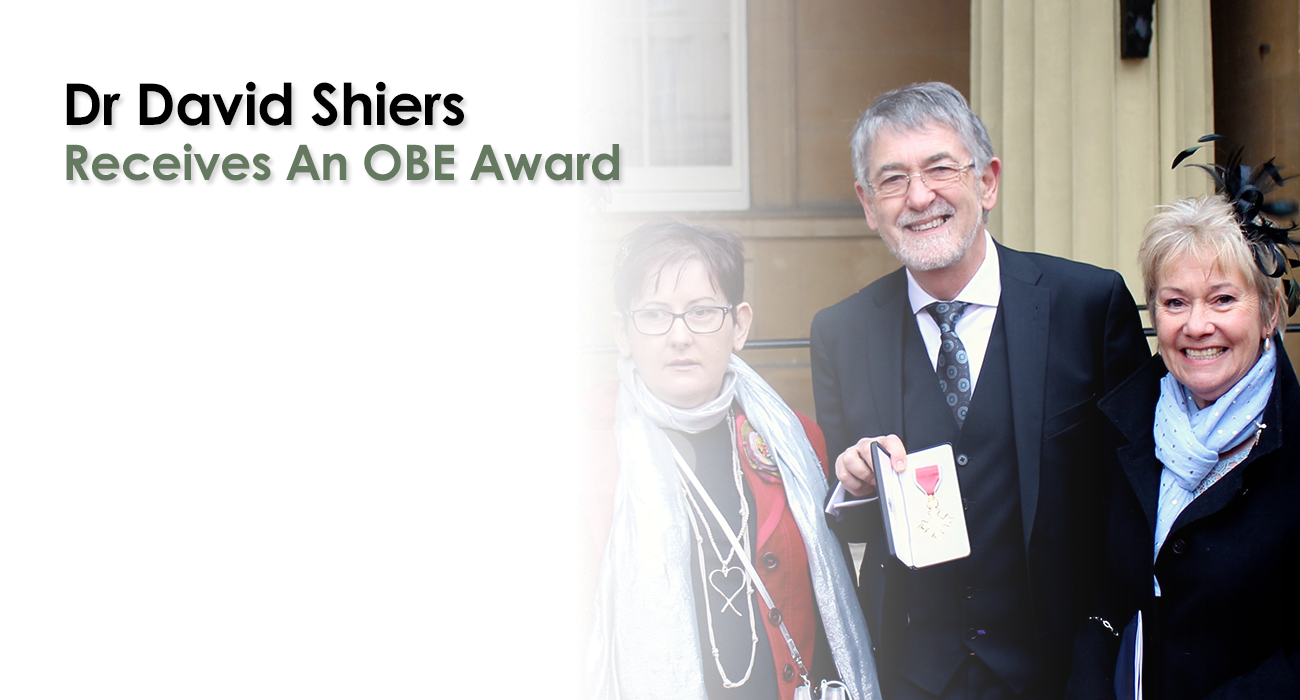 Dr David Shiers Receives An OBE Award
On February 10th David received an OBE for his services to vulnerable people, in particular those experiencing severe mental illness. Celebrating in Buckingham Palace with his wife, daughter Mary and two daughters-in-law provided a surreal contrast to 21 years previously when they faced a very different British institution: a comfortless 8-bedded dormitory of an old asylum in which the NHS had placed Mary for 'rehabilitation'.
David is a Mancunian – born & bred. Qualifying in medicine in 1974 he eventually ventured down to Leek to commence work as a GP in 1981. He and his family loved the small market town and its way of life. But things changed when his daughter became mentally ill aged 15. David and his family found themselves at the receiving end of mental healthcare (mid 90s). Advised by Mary's psychiatrist, he complained about the inappropriateness of services for young people. Responding positively, the West Midlands Regional Health Authority supported the formation of a small and highly committed group intent on radically reforming services to provide early intervention for psychosis, exactly what his daughter and others like her were not receiving at that time. Calling themselves IRIS (Initiative to Reduce the Impact of Schizophrenia) this group was to lead one of the most important mental health reforms of the last two decades.
In 2002, David changed his career to jointly lead with Jo Smith the National Early Intervention in Psychosis Programme. Collaborating with international colleagues in pioneering early intervention reforms in many other countries, David has contributed to initiatives such as the development of the Early Psychosis Declaration involving the WHO and the International Early Psychosis Association. The latter gave David its lifetime achievement award in 2012.
More recently David has participated in developing NICE guidelines for the care of young people experiencing psychosis. In particular he has sought to improve their frequently poor physical health, teaming up with Sydney colleague Dr Jackie Curtis to lead an international initiative entitled Healthy Active Lives www.iphys.org.au. This interest has included taking part in major national research projects and in 2015 David took on an academic appointment as an Honorary Reader in Early Psychosis at Manchester University, 41 years after graduating there. This coincided with David joining the Psychosis Research Unit (PRU) of Greater Manchester Mental Health NHS Foundation Trust (GMMH), and close colleagues Tony Morrison and Paul French with whom he had worked for many years. David's experience as a former GP and carer underpins his contribution as an honorary research consultant to PRU.
A recent PRU highlight for David was to co-lead a GMMH Dragon's Den initiative with service users and EIP practitioners to develop RIGHT FROM THE START, a practical resource to empower people experiencing early psychosis to begin conversations with their clinical team about their physical health from the onset of treatment. Launched locally 10 months ago, GMMH has already been approached to share the resource with several mental health trusts in England, has been rolled out in Sydney and soon the rest of New South Wales, and there is interest from parts of Canada and US.
Mary has recently moved to a more suitable residential home where she is thriving in a very caring environment and enjoying what she loves best – eg shopping, nights out and visiting the pub next door.