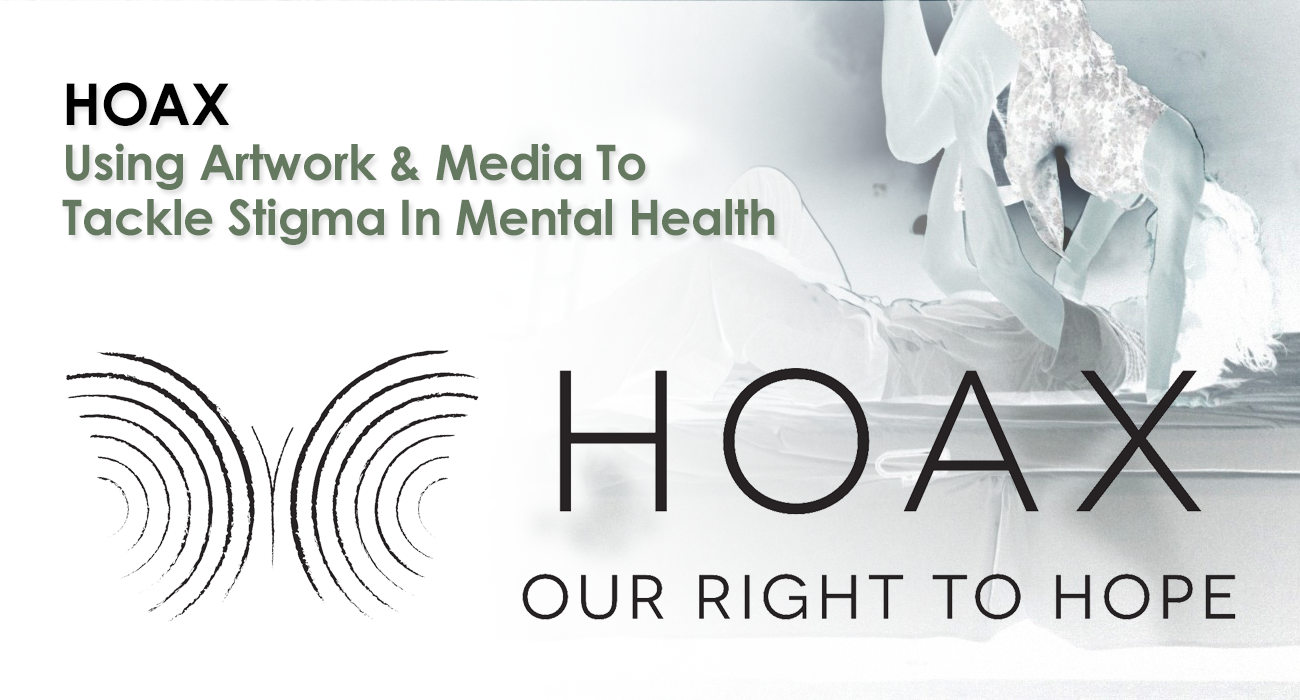 HOAX Using Artwork & Media To Tackle Stigma In Mental Health
What do you think about Psychosis and what does it mean to you?
For years the general public has been fed a negative view of psychosis and other mental health difficulties. This is usually thanks to language and imagery conjured by the media, be it advertising, articles or TV.
These societal misrepresentations result in individuals who experience mental health difficulties being stereotyped and often discriminated against.
But when it's you, a loved one or a friend who starts to experience psychosis; what happens then?
It's well known that the stigma surrounding mental health can pose barriers to recovery; such as individuals feeling less likely to seek help for a difficulty, an absence of hope or reduce beliefs that recovery is possible.
The HOAX Our Right to Hope project is a unique collaboration between the arts and health sectors. The project will be used to provide evidence on the effectiveness of HOAX to raise awareness of, and tackle the stigma surrounding mental health.
HOAX Our Right to Hope 2017 tells the true story of Rob, a young man who experienced psychosis. It uses a unique cross-media approach to tell Rob's story from the time when he first starts to experience psychosis, throughout his life, to his death and beyond.
This is achieved via three artworks, written by Rob's sister, Ravi Thornton. Part-funded by Arts Council England's Strategic Touring Programme; HOAX Our Right to Hope 2017 comprises a musical stage production, graphic novel and interactive app, and is the first time cross-media artworks have been used as a platform to conduct research into stigma and perception around mental health.
The Musical Stage Production, directed by Benji Reid, gives an account of Rob as a young man and his time with Helen, the woman who loves him; around the time when he first starts to experience psychosis.
The graphic novel explores lost love: following the next 10 years of Rob's life, when his world becomes a series of struggles and extraordinary insights.
The Narrative App tracks his journey from a young man with endless potential, through his living with schizophrenia, to life (real and imagined) after his death.
The HOAX Our Right to Hope App is also an innovative way to conduct research, evaluating the ability of the HOAX narrative to challenge stigma in mental health and to empower those with lived experience of mental health difficulties. It is the pioneering Narrative Resilience Technology of Ziggy's Wish; that allows the storytelling and the science to balance in an effortlessly engaging way.
Not only is the app engaging from a research point of view, it also explores recovery and has links to Websites containing Normalising Information About Psychosis for anyone who would like to know more.
The tour will visit five venues from 4th April – 1st May 2017 in a bid to reach new and diverse audiences.
HOAX Our Right to Hope 2017 will visit Barnsley, York, Grimsby , Liverpool, and Salford.