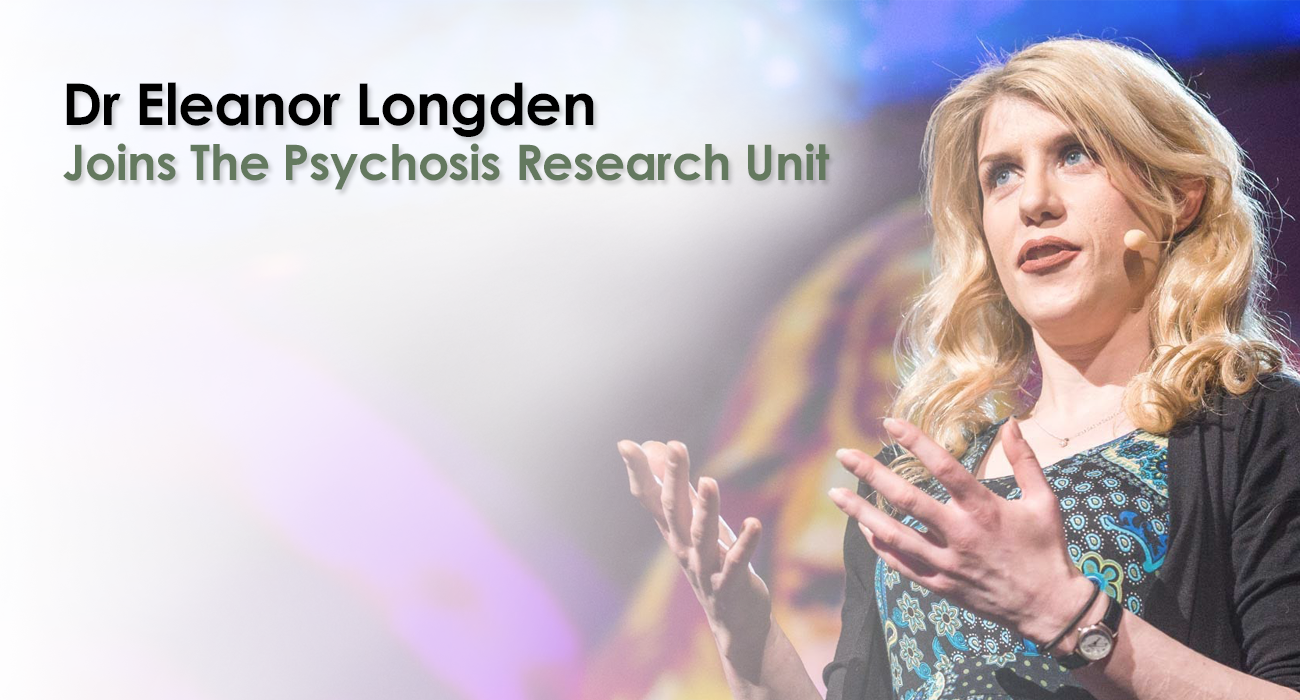 Dr Eleanor Longden Joins The Psychosis Research Unit
We are delighted to welcome Dr Eleanor Longden to The Psychosis Research Unit. Eleanor is a respected researcher, mental health activist and research coordinator of Intervoice, The International Network for Training, Education, and Research into Hearing Voices. Being three-times a TED speaker, she is internationally known for her inspirational TED talk: The Voices in My Head, in which she shares her own experiences of hearing voices and embodies a message of hope and recovery.
Eleanor is the author of Learning From The Voices in my Head (TED Books, New York: 2013), she has lectured internationally and has published numerous book chapters and research papers. Details of her research publications can be found on her research profile HERE. Her specialist research interests include examining the links between psychosis, trauma and dissociation. She also works to improve mental health services by promoting creative, person-centred, psychosocial approaches to understanding and recovering from psychosis. This includes her contribution to the Compassion for Voices project, which is based on developing a compassionate dialogue with voices.
After spending several years in psychiatric services, Eleanor began her career as a research psychologist by achieving a first class Honours degree in Psychology at The University of Leeds, for which she was awarded The British Psychological Society Undergraduate Award. This was followed by her Master's degree in Health Psychology and her PhD on trauma, dissociation and psychosis. 
Eleanor now has a managerial role at The Psychosis Research Unit where she oversees the essential work of our service-user researchers and service-user reference group in developing and informing our research trials. She also continues to pursue her own research projects and supervise research students. Prior to working at The Psychosis Research Unit, Eleanor was based at The University of Liverpool's Psychosis Research Group. She has also worked in the NHS for early intervention in psychosis services.
Videos…
Ted Talk – The voices in my head
The Guardian – I hear voices in my head, but I'm fine – video
Compassion for Voices: a tale of courage and hope
Interviews…
The Guardian – The voices in my head: Eleanor Longden's 'psychic civil war
The Independent – A first-class recovery: From hopeless case to graduate
Websites